As a portrait photographer I am always excited about collaboration shoot for personal work. Collaboration shoots are planned in advance (way in advance) and you have ample time to decide, try and test the lighting you want and the effect you are going for. Also collaboration shoots are a win-win for everyone working on it since it boosts everyones portfolio by working with the best people in the business.
I got such an opportunity recently when I collaborated with one of the best designer of Indian Bridal clothes, one of the best wedding decor companies, an uber talented make up artist and hair stylist and 4 gorgeous, mind blowing models.
The Shoot
The theme of the shoot was "Indian Bridal Portraits with a Twist". Yeah that was what I wrote on a piece of paper and had no idea what we were going to do and how. Then the entire creative team brainstormed for over 4 weeks to come up with the concepts which will be presented in this blog later. Before I go on about more details of the shoot, I want to list the people involved in creating the shoot which was the one of the best photoshoots I've ever done.
Clothing Designer - Ruchita Dagli. Ruchita Dagli is one of the top designer for Indian Bridal clothing in New England. She has the most modern, unique and versatile clothing that I have ever seen. Check out her work or contact her at http://www.ruchitadagli.com/ and https://www.facebook.com/ruchitadaglidesigns/?fref=ts
Decor - Shruti Bawa. Decor for all sets was done by the amazingly talented Shruti Bawa of Love Decor. She worked tirelessly to create all sets. The flowers themselves costed her more than 500$. She is very detailed oriented and puts her personal touches to all decor evident from the hand made bouquets, backdrops and props she did for the shoot. Love Decor has the a huge collection of wedding decor that one can ever see. I mean she did 4 sets simultaneously for the shoot and had over 2500 sq ft full of rooms full of other decor. Check them out at https://www.facebook.com/lovedecor.us
Makeup Artist - Amita Galarza. Makeup was done by the amazing Amita Galarza. Amita is a popular bridal makeup artist in the New England area. She did a unique makeup for each bride and that blended so well with the different themes. Check her out at https://www.facebook.com/BeautyandtheBrushArtistry/?fref=ts. She is super artsy.
Hair Stylist - Kelly Lindholm. Kelly Lindholm was the hair stylist for the shoot and she brought so much to the table and completely transformed the model in to Indian princesses. Hair styling is a very intricate art and Kelly really knows how to ace it. Check out her work at https://www.facebook.com/Hair-In-Motion-Personal-Styling-157807207573409/?fref=ts. You won't regret it.
The Brides
We had 4 Indian brides with a BOHEMIAN, MODERN, MOROCCAN and VINTAGE twist.
Bride # 1 - BOHEMIAN PRINCESS - Flirty and fun.. Casual but chic. This outfit is all about finding the Bohemian Princess hidden in you. A perfect choice to wear to a Sangeet or a Mehendi night. The model for this theme was Shirin Bakre, an extremely talented dancer, ace model, athlete and robotics champ. The decor was simply outstanding. Real flowers and handmade bouquets creates the amazing atmosphere for the princess.
Bride # 2 - MODERN BRIDE - The modern Indian bride embraces her traditions but also loves the comfort and style of modern outfits. This look is for all those Brides who want the perfect blend of modern and traditional wear. The model for this theme was Shamima Khan, mother of a 12 year old, her looks, style and poise are killer and she is a breeze to work with. The decor for this setup was a high key decor to make the dress pop right out of the background.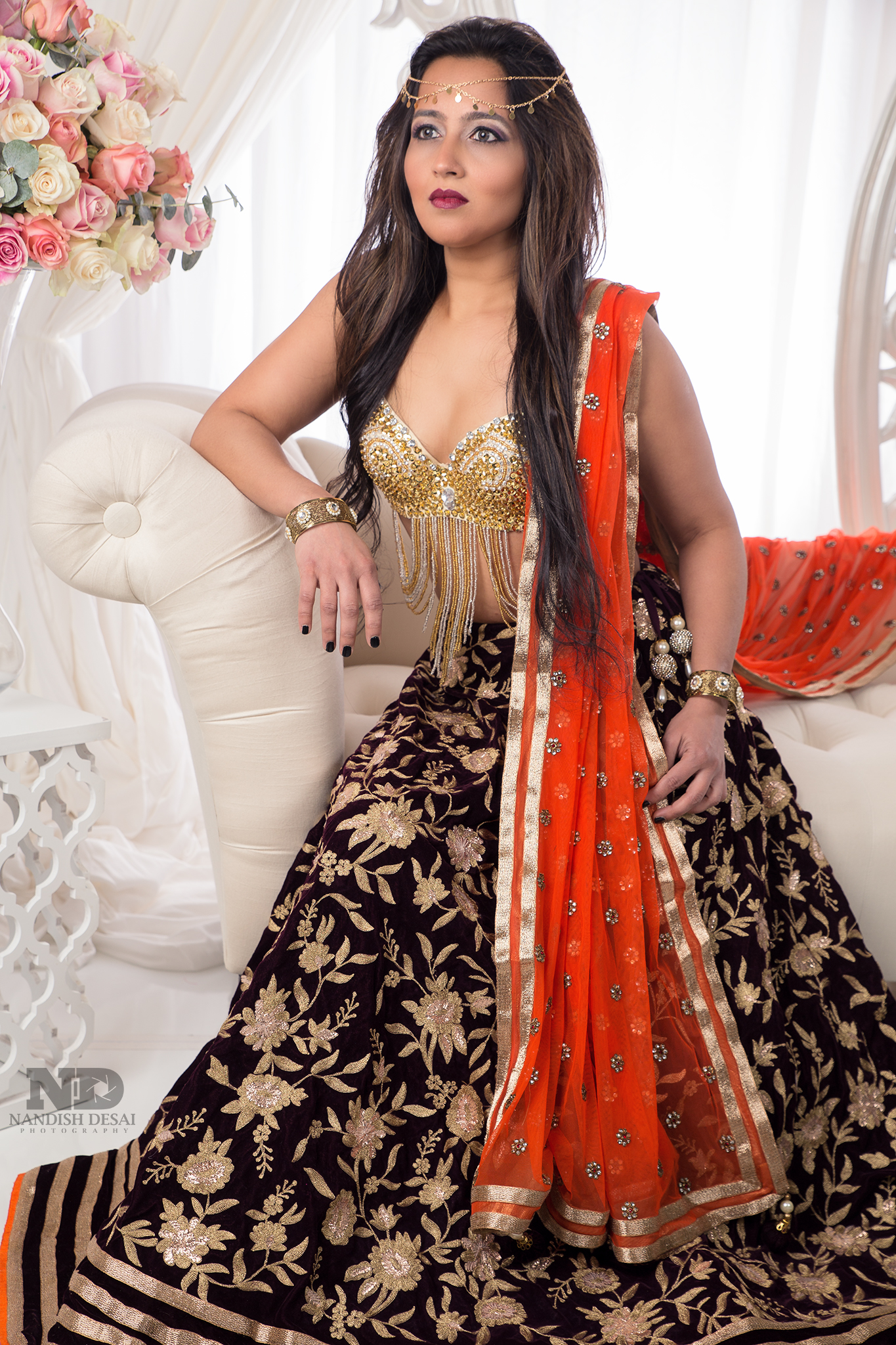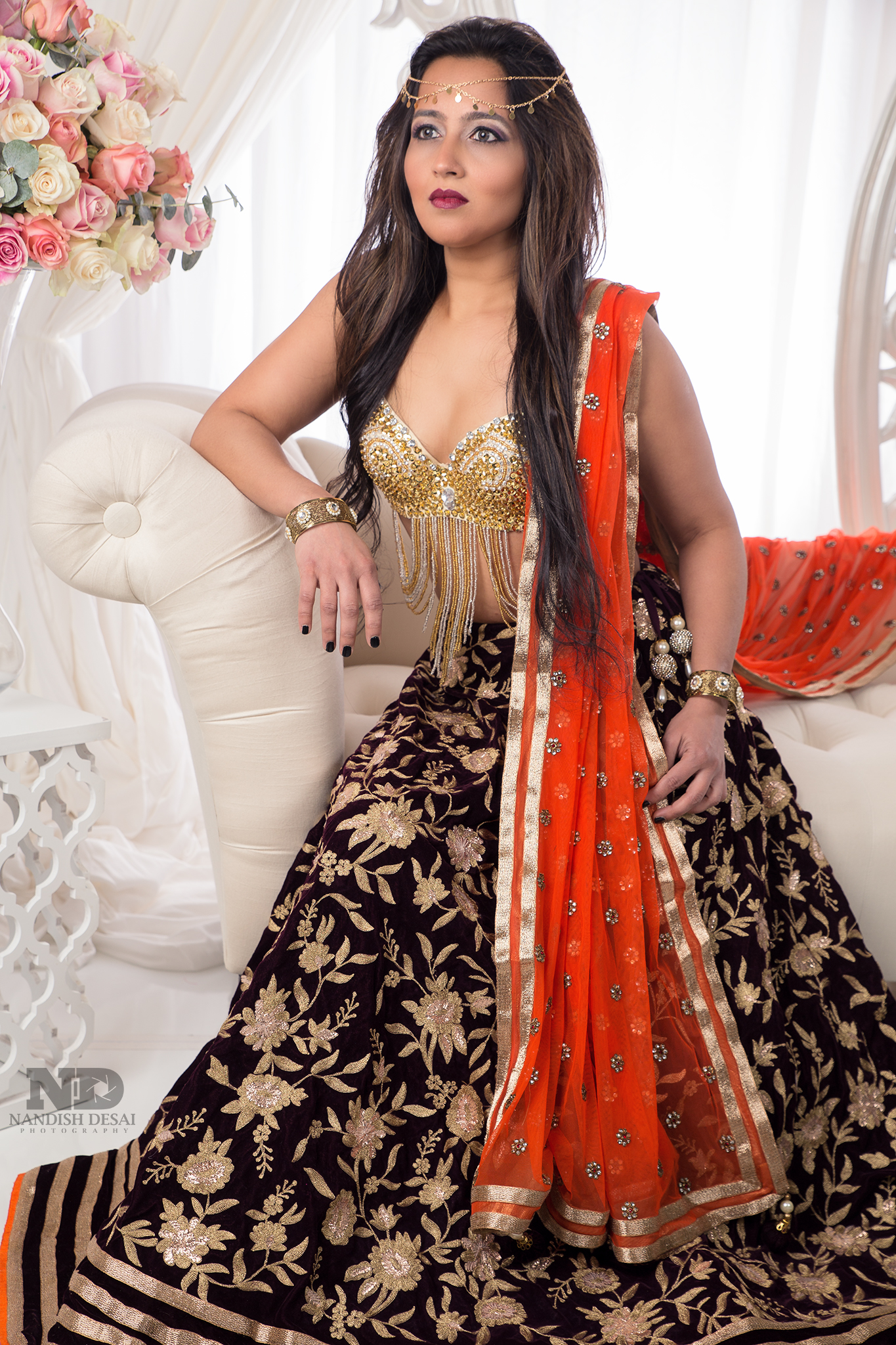 Bride # 3 - MOROCCAN BRIDE - Flowing gold luxe fabric styled in this CLEOPATRA inspired drape dress is surely a head turner. Just what you need for that Destination Wedding. The model for this theme was Sweta Patel. Sweta loves the camera and the camera loves her back. She is so natural and energetic at the shoot. It was a total blast to work with her. The decor for this shoot was absolutely fabulous. The huge pots and the vintage boxes gives the shoot a perfect feel.
Bride # 4 - VINTAGE BRIDE - Timeless and classic, this vintage inspired sari is a must have in every Bride's closet. The model for this theme was Namita Dodwadkar. Namita, a perfect combination of beauty with brains. Senior scientist and a professional model and actor. Her ability to portray different looks and follow camera direction is impeccable.
If you are looking for portrait, headshot or event photographer for your needs, look no further.